Totally cGMP Compact design availably in plain, water jacketed & Flame proof model.
It's improving the bulk density of material.
It's improves uniform mixing of material.
It's achieve better granulation of sieves analysis.
It's produce uniform particle size range of granules.
Various types of roll available to achieve maximum bulk density of output.
Specially designed feeding system consisting of hopper pre-densifer& variable speed drive unit.
Feeding unit can hydraulically lift by hydraulic pump for easy cleaning.
Specially design provide in the roller to prevent powder sticking on the roll.
Pre-compression chamber guides the powder without any slippage or leakage.
To prevent major accident the roll is designed to rotate reverse & forward when cleaning. Specially limit switch is provided to prevent major accident.
Main roll drive is design with twin shaft gear box coupled with coupling to protect roll drive unit therefore perfectly synchronizing the roll with a constant torque.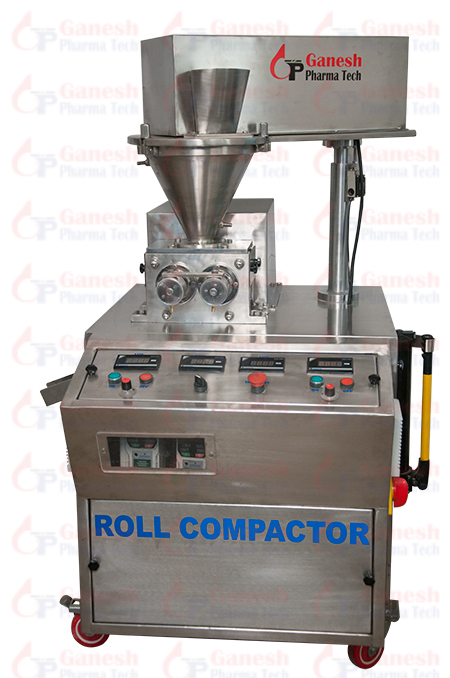 | | |
| --- | --- |
| Model | GTP-RC-35 |
| Output | 2-5  Kgs./Hr.* |
| Roll size | Ø 100 mm x 35 mm |
| Roll speed (through AC Drive )) | 2 to 25 RPM |
| Feed screw speed(through AC Drive ) | 5 to 60 RPM |
| Roll drive Motor | 3Hp/960RPM/3 Ph. |
| Feed screw driver motor | 1 HP / 1440 RPM / 3 Ph. |
Output depending upon the material characteristics & its nature.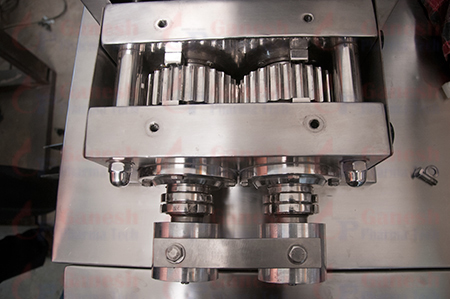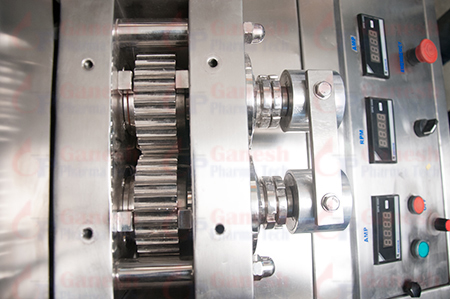 Water Jacketing System to be used considering the below points:
Water should enter in the water-jacketing system with gravitational force and the inlet of water must be parallel to it.
The force of inlet water should not be high, it must be normal.
The volume of inlet and outlet should be equal it means if outlet volume is one liter in 10 min. then inlet volume should not increase than 1 liter in 10 minutes.
Force of inlet water should be controlled through appropriate valve between inlet of water- jacketing system and your source of water supply.
Outlet water from water-jacketing system must not be re-circulated to avoid backpressure to the seals and it should go to drain only.
Always supply raw water to the water-jacketing system as it is require maintaining the temperature between two rolls while compaction.
Don't supply chilled water as it will condensed to rolls and shafts because the area, where the machine will be installed, will be air conditioned and also Rh must be maintained.
If above points are considered and implemented during the installation of the machine, the problem of leakage from the water-jacketing system should not occur.
keytags – Mini Roll Compactor Suppliers, Manufacturers, Exporters in Mumbai, Delhi, Bangalore, Hyderabad.