Model :- CAP-TAB-150 – Single Track
Output :- Strokes per minimum(max) 150   (Size and No. of packs Depend on selection of Change parts)
Power Requirement :- (4.5 km ( 415V, 3 Phase, 50 HZ, A.C. Electric Supply) )
Application :- Usually used in Pharmaceutical Industry.
Format Range
PVC Base Film  (max.width)
128 mm
Thickness
0.2 to 0.3 mm
Maximum reel diameter
440 mm
Aluminium foil (max.width)
124 mm
thickness
0.02mm to 00.3mm
Maximum roll diameter
210 mm
Forming area    minimum
112 x 25 mm
maximum
112 x 96 mm
Pack length (maximum)
120 mm
Pack width (maximum)
104 mm
Forming  Depth
Can be extended upto 19 mm
12mm
Output
Strokes per minimum (max)
Size and no: of packs depend on selection of change parts
150 storks
Power requirement
4.5 kw ( 415 v;3 phase,50 hz,a.c.supply)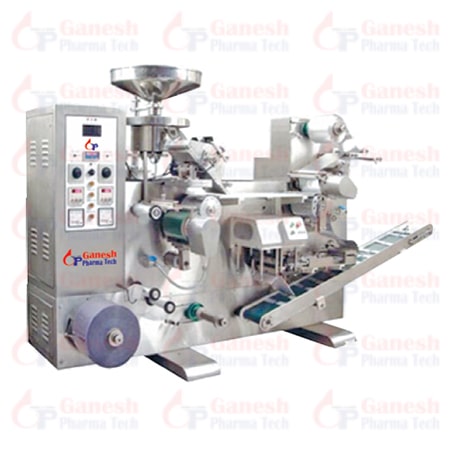 Available Single Track & Double Track
Special Features
Up To 2 Lacs Tablets/Shift.
No Micro-Stop.
One User Interface For All Components.
Best Built Quality.
Rigid Design.
Gmp Standards Satisfying With Alll Stainless Steel Cladding.
Hi-Speed With Smoothness & Noiseless Performance.
Pulse Features
Packing Speed : Calibrated Spped Of 30 Strokes / Minute In 240 Mm Format Area Machine.
Web Indexing :  Servo Based System.
Feeding : Dropping System With Pneumatic Technology.
Man Machine Interface : Ergonomically And User Friendly Touch Screer Operation .
Scrap Handling : Scrap Winder.
Optional Features
All In One Package(ALU – ALU Machine With PVC Attachment).
Sp-Feeding System.
Acrylic & Polycarbonate Guards.
Description
(ALU ALU) Cold Forming
(PVC ALU) Thermo Forming
Base Foil Width
Aluminium 150 mm
PVC/PVDC/ACLAR 220 m
Base Foil Thickness
0.13-0.15 mm
0.20-0.40 mm
Base Foil Reel Diameter
440 mm Max
440 mm Max
Sealing Foil Width
Aluminium 240 mm
Aluminium 240 mm
Sealing Foil Thickness
0.025 – 0.035 mm
0.025 – 0.035 mm
Sealing Foil Reel Diameter
210 mm Max
210 mm Max
Max. Packet Forming Area
230 x 150 mm
230 x 150 mm
Max. Forming Depth
12 mm
12 mm
Output
30 Strokes / Minute
Approx Weight of Machine
1050 Kg
Machine Size L x W x H
3000 x 950 x 1700 mm
Power Requirement
3 Phase, 4.5 Kw, 50 Hz, 4 wire
Water Chiller Requirement
80 Liter / hr. Temperature 15° C +/- 2° C Pressure 2.5 Bar (Max)
Additional Safety
Air Dryer, Voltage Stabilizer
Compressed Air Requirement
24 CFM Dry air at constant pressure 80 kg / cm2