Imported needle roller bearing provided at the bottom of turret.
Upper punch Penetration.
Electronic Digital Tablet cum RPM Counter.
Guards of Acrylic Material.
Grease Nipples are provided for effective lubrication wherever required
Turret of Special Grade S.G. Iron casting.
Paint free tablet manufacturing zone.
Aluminum Turret Guards.
Square GMP Table Top Model.
Anti – Vibration mount.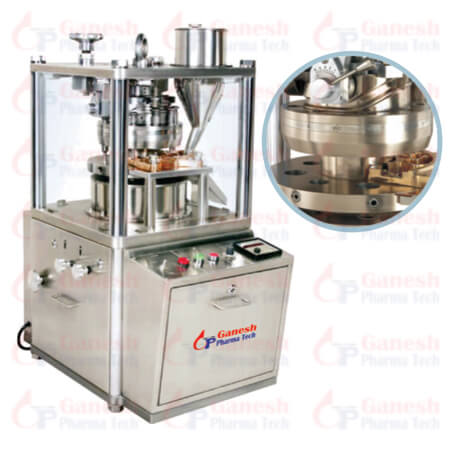 Number of Stations
GPT-LAB-8 D
GPT-LAB-10 B
GPT-LAB-12 D-B-BB
Model
8
10
12
Type of Tooling
D
B
D-B-BB
Output-Tablets/hr.
2000 TO 14,000
2000 To 18,000
2000 To 7,200
Turet Rpm (min./Max)
10-30.
10-30.
10-30.
Max. operating pressure
6 Tons
6 Tons.
6 Tons.
Max. Tablet Dia.
23 mm
16 mm
23 mm
Maximum Depth Of Fill
17.5 mm
17.5 mm
17.5 mm
Power
2.HP x 1440 RPM x 415 v. x 50 HZ
Overall Dimensions (mm)
840 x 635 x 1200H
Net Weight (Approx)
375 Kgs