Leading Manufacturer of Liquid Filling Machine,Automatic Liquid Filling Machine in Ahmedabad, Gujarat, India
Ganesh Pharma Tech Specializes in manufacturing Liquid Packaging Systems that are engineered and built to meet the Industry specific needs of small and medium size companies.We are renowned manufacturers, suppliers and exporters of Filling Capping Labeling machines, with factory in Ahmedabad Gujarat INDIA. We specialize in food cosmetic pharmacy production lines of bottle washing filling capping labeling for liquid, sauce, jam, cream, powder etc.
With years of experience in production line of manufacturing machines for Tablet & Granulation Sections, we are known for our outstanding performance in the industry. We have helped ourselves as one of the leading brand in INDIA. We have constantly upgraded our products to meet the international standards. We hold a team of professionals, which provides on time deliveries with high quality.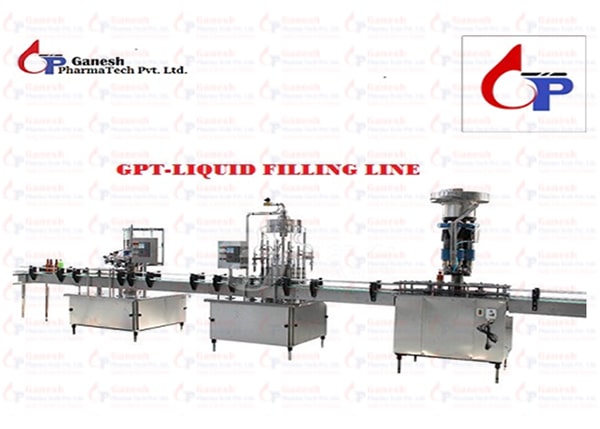 We provide
Linear / Volumetric / Piston Based Filling / Pressure fillers / Pump Fillers
Overflow fillers / Net weigh fillers / Gravity fillers
Specialization in Customized Vial & Ampoule Filling & Sealing Lines for Aseptic Formulations
Complete Filling Lines for Food Chemical Cosmetic Pharma & Biomed Industry.
Complete Filling Lines for Hazardous Location Installations
Complete Filling Lines for the Corrosive Chemical Industry
Complete Filling Lines for the Paint Industry
Designed in Single or Multiple Head Provisions
High value / High Speed Filling Capping Labelling Lines
Stand Alone Filling & Capping & Labelling Machines
Monoblock Filling & Capping Systems with Peristaltic Pump Filling Options for bare minimum volumes
Robust Systems that include a range of container flexibility
Constructed using top quality USDA/FDA approved materials
Are easy to use & easy to clean and easy to maintain
Lowest total cost of ownership.
Extremely accurate to within +/- .25 to 1% on homogenous products
Menu driven PLC controls with an HMI Interface
Induction Sealing  Machines
Labeling – For Round Flat & Odd Shaped Containers
Accessories like Conveyors with Gating System, Feeding & Collection Tables.
Our machines are manufactured with high quality components to guarantee that our customers have always access to spare parts. These common components can be purchased through us or through our Authorized Channel Partners. Our (Ganesh PharmaTech) Manufactured Equipment's have the Ability to Handle Large Particulates as well as Thin and Thick products.
Our Equipment's have Variable speed Engineered for accuracy & are Built for reliability and speed. Designed for ease of use Options like
Liquid level controls Steam
Jacketed hoppers
Agitated hoppers
Linear traveling carriages
Adjustable nozzle racks
Diving nozzle assemblies for bottom-up ­filling
Linear servo actuation
Scale / load cell feed back systems
Unscrambling tables
Accumulating tables
Bottle Rinsers (Linear Tunnel Type & Rotary Gripper Type Washing)
Metal detection
Labeling Equipment
Bottle Coding
Gap transfer conveyors
Our machinery are manufactured to suit the needs, including being resistant to corrosion.Corrosion resistant equipment can be constructed from materials such as HDPE, UHMW, or PVC, and they are simple to clean to maintain efficiency. GPT offers a wide range of different equipment, so whether you need just one machine as a replacement or addition, or you're building a packaging line from scratch, you'll find what you need here.