Manufacturer of Double Cone Blender, Double Cone Blender Exporter India
Ganesh PharmaTech Pvt. Ltd. is a leading manufacturer and exporter of Dry Cone Blender machine and Dry Powder Mixing Cone Blender for mixing of Powder and Granules. Mixing is the process of thoroughly combining different materials to produce a homogenous product. The  mixture is generally a combination of dissimilar materials are blended in a specified ratio to produce a uniform lot of a desired weight/volume with consistent particle size distribution, color, texture, and other required attributes, e.g. metal powders produced in 1 ton batch size are blended to a homogenous lot size of 4 tons (or pre-specified quantity).
Our machines are used in different industries like pharmaceutical, food, chemical etc.
Our machines are designed in such a way to avoid dust generated from double cone blender.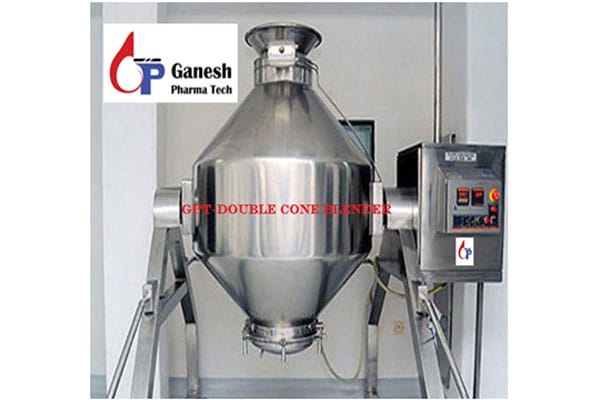 General features for Application and Mechanism:
In different industries mixing is required for mixing and powder and granules so as to form the product.
There are two types of machines that provide effective mixing available that are Dry Cone Blender machine and Dry Powder Mixing cone blender.
Both the type of machines provide effective mixing of powder and granules
The Dry Cone Blender machine is of canonical shape at both ends that provide uniform mixing of granules in bulk and with easy discharge mechanism
The powder and the other components are been loaded into the cone for mixing
In order to ensure proper mixing two third of the cone blender is to be filled
The cone of the Dry Cone Blender machine is been balanced statistically to avoid excessive load on the mixture.
Once the product is been loaded into the cone for mixing, the paddle type baffles are provided accordingly for better and uniform mixing inside the cone.
The normal cycle time of rotating the cone ranges from 10 minutes and may vary depending upon the density of the Powder in mixing
After finishing with the mixing, the mixture is been discharged with the help of side valve
Due to the polished surface of the Dry Cone Blender machine, you can easily clean it manually
Similarly, the dry powder mixing cone blender is used for mixing of dry powder and granules homogeneously.
There are various industries using dry cone blender machine that includes pharmaceutical, food, chemical, cosmetics, detergents, fertilizers, plastics etc.
All welding are done by Argon Arc Process
Blenders is totally mirror polished from inside & outside
Unit is mounted on Mild Steel / Stainless Steel stand fitted with ball bearings
The driving arrangement consists of a motor through a reduction gear box, S.S. baffles, are provided inside the blender.
Safety railing along with limit switch and platform (optional) are supplied generally for bigger models
Flame proof electrical can be provided as optional
Salient Features of Ganesh PharmaTech make Double Cone Blender
The conical shape at both ends enables uniform mixing and easy discharge. All contact parts are made out of Stainless Steel 304 or 316 quality material, as required by customer. Maximum care has been taken to ensure safe operation of the unit. Manual rotating facility with hand wheel for inching.
The same will be provided with SS cover & limit switch. ( In 200 Kgs. & above model ) Two nos. of safety road will be provided at back side. ( One LH side & one RH side ) Suitable size of butter fly valve at one end of the cone provided for material discharge & hole with openable cover provided at other end of the cone for material charging & cleaning. One shaft with 04 nos. of fixed baffles with mirror polished provided inside the cone.
Cone will be mirror polished from the inside & outside & structure will be matt polished. All moving parts covered with SS304 covers. Safety guards made from SS304 pipes provided in front of the m/c with limit switch. Panel fabricated from SS304 material with facility of three phase indication, D.O.L. tarter, digital timer & Amp. Meter. As per customer requirement machine will be provided with left side drive or with right side drive. The conical shape at both ends enables uniform mixing and easy discharge. All contact parts are made out of SS304/316(as per customer requirement) quality material. Maximum care has been taken to ensure safe operation of the unit.
Worm reduction gear use for speed reduction.
Food grade rubber gasket will be used on both end of cone as well as in butterfly valve. Inside & outside of the cone will be polished to the mirror finished.
General structure made out of SS304 and Polished to the matt / mirror finish ( as required by you ) in GMP Model.
All safety guards & covers made out of SS304 in GMP Model.
Hand wheel will be provided for manual tilting of cone.
Safety guards provided with limit switch to not start the machine when safety guards are not in proper position.
| | | | |
| --- | --- | --- | --- |
| Model | Gross Volume (Ltr.) | Working Volume (Ltr.) | Motor (HP) |
| GPT-DCB -5 | 15 | 9 | 0.5 |
| GPT-DCB -10 | 30 | 18 | 0.5 |
| GPT-DCB -15 | 45 | 27 | 0.5 |
| GPT-DCB -25 | 75 | 45 | 1 |
| GPT-DCB -50 | 150 | 90 | 2 |
| GPT-DCB -100 | 300 | 180 | 3 |
| GPT-DCB -150 | 450 | 270 | 3 |
| GPT-DCB -200 | 600 | 360 | 5 |
| GPT-DCB -250 | 750 | 450 | 5 |
| GPT-DCB -300 | 900 | 540 | 7.5 |
| GPT-DCB -350 | 1050 | 630 | 7.5 |
| GPT-DCB -400 | 1200 | 720 | 10 |
| GPT-DCB -500 | 1500 | 900 | 10 |